Route 66
Springfield, Illinois is a Route 66 stop so the Motherroad is both and dear to many of us. I have made several Route 66 themed items over the years—cards, magnets, shoes, manikins and amulet boxes.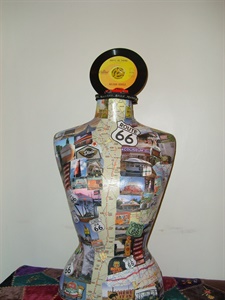 The Mother Road
This torso is a tribute to Route 66. I live in Springfield, IL, on old 66. The maps are old ones which show route 66 and the images are from sites along the road.
30"H x 15"W x 13"D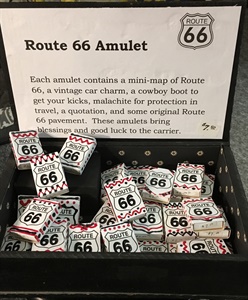 Route 66 Amulet Box
Each matchbox amulet contains a mini-map of Route 66, a vintage car charm, a cowboy boot to get your kicks, malachite for protection in travel, a quotation, and some original Route 66 pavement.
.5"H x 1.5"W x 2"D